It's summertime again, and I need attractive female models for my swimwear shoot. Are you looking for pictures to add to your portfolio or social media page? If you are interested in quality bikini images, look at what I'm offering.
The details
You want to make sure you have a bikini that you feel comfortable posing, especially if you're new to modeling. Having comfortable clothing is always important because it makes everything go easy. I would also suggest bringing some summer clothing that can be worn on top of the bikini and used as a different look. You can model a bikini on-location anywhere, but it's always better near water or a marina. Below are a couple of examples from two models I photographed, Adriana and Jenna. Take a look at where they posed:
If you see the shot of Jenna, she posed in front of a lovely pond located in one of Pittsburgh's city parks. Now Adriana was a more involved shoot. I  photographed her at one of the beaches at Lake Erie.
Creating a setting
Referring to my samples above, the setting for a bikini shoot is limitless. You don't always have to have a beach. It can happen anywhere. With the right plan and location, ideas are endless. To even go further on concepts for shooting bikini fashion, take a look at my model Molly below: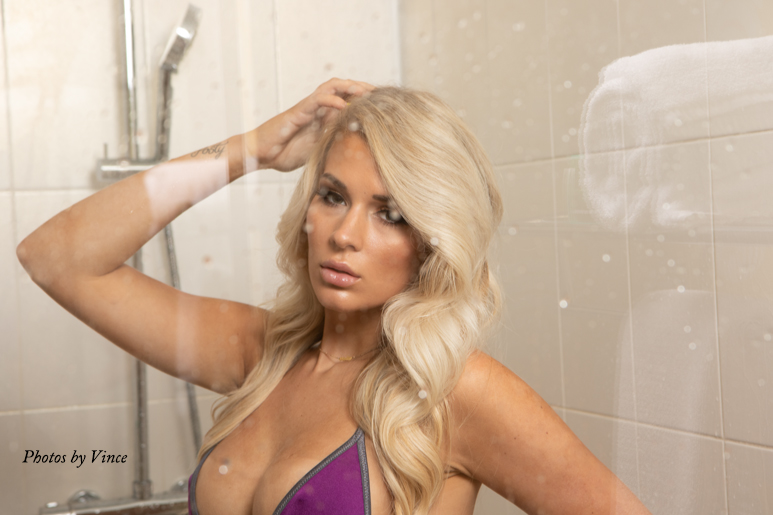 I took the pictures for this wet set in a hotel bathroom using the sliding glass shower door. The glass produced a fabulous silky smooth result without post-editing in photoshop. Actual pictures are much better than fakes. I avoid using a lot of post edits because editing changes the actual image into a phony. As you can see, a shower stall is one of many ways to create perfect bikini fashion settings if no beaches are around.
Are you interested?
I'm offering reasonable compensation for experienced models or women with professional bikini looks. For new models or anyone looking for images to use, I can also shoot TFP trade for images.